Eden Camp Modern History Museum is proud to announce they have won "Best Educational Day Out 2022" for the SME Northern Enterprise Awards for the second year in a row!
The Northern Enterprise Awards celebrates the industriousness and the dedication of the businesses and enterprises hailing from the north of England.
Accounting for over 99% of the business population in the country, SMEs play an essential part in keeping the UK's economy afloat. With business owners coming on leaps and bounds after a turbulent couple of years, small-to-medium enterprises in the UK are thriving following a hugely promising start to 2022.
Business creation in the North of England is way ahead of the UK average, and with this in mind, it is the perfect time to announce the Northern Enterprise Awards, proudly hosted by SME News!
This award has been designed to recognise the companies and teams who are excelling and innovating within their market.
The awards are judged entirely on merit by our experienced in-house research team, taking into consideration information available online and in the public domain, the team will carefully analyse and evaluate those who they believe are succeeding in their endeavours; innovating, growing, and improving.
2022 has been another challenging year for the tourism and heritage sector with the cost of living affecting footfall, therefore Eden Camp is especially excited and proud to celebrate this amazing achievement.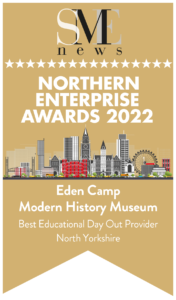 This award highlights how dedicated the museum is to welcoming the next generation of visitors. Its team are working hard behind the scenes to create and develop all the on site and digital resources associated with education, making a visit to Eden Camp just as fun as it is educational.
"We are immensely proud of the efforts put in by the Museum's team of staff and volunteers who put every effort into making an unforgettable experience for our visitors from start to finish." Eden Camp Modern History Museum's Managing Director, Paula Peace says, "It means so much to us all after such a difficult two years to know we are still achieving the high-quality service that our museum is famous for. A massive thank you to all involved who have helped us gain recognition in our sector!"
Since being established back in 1987, our museum has grown from strength and strength. 2023 promises to be a bigger and better year than ever before with several projects on the go over the winter, including the refurbishment of our Junior Play Area with sustainable materials, increasing accessibility around site, and the launch of our BRAND-NEW Human Torpedoes which will create an immersive and high-tech walk-through experience for all to enjoy!
Eden Camp Modern History Museum is a privately owned, educational museum established on an original WW2 prisoner of war camp. It offers a widely varied and unique collection of military paraphernalia, vehicles, and social history both donated and on loan from members of the public. The museum recently launched Eden Camp Heritage Restorations which aims to provide a voluntary led program in restoring historical vehicles and items that have found a home at the museum.