Eden Camp Modern History Museum's Hut Restoration Project has received £224,000 from the UK Government through the UK Shared Prosperity Fund.
MALTON, NORTH YORKSHIRE – November 2023 – Eden Camp are thrilled to have been supported by North Yorkshire Council in the decision to be awarded £224,000 of the £16.9 million UK Shared Prosperity Funding allocated to North Yorkshire.   Set in the original buildings and grounds of a WWII Prisoner of War Camp, Eden Camp Modern History Museum looks to preserve an important piece of local and national heritage with the 50% matched funding over a two-year period, following previous extensive investment from the family-owned business to enhance the much-loved visitor attraction.
Cllr Simon Myers, executive member for culture, leisure and housing, and chairperson of the UK Shared Prosperity Fund places sub-group at North Yorkshire Council, said:
"Eden Camp provides an important insight into modern history bringing to life what it was like to be in a prisoner of war camp during World War Two.

"It is important that we continue to preserve that history for future generations and this grant will help towards achieving that ambition."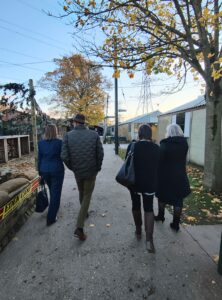 Eden Camp's original huts were built by Italian prisoners in 1942 as makeshift accommodation, designed to last for a maximum of ten years. Now, over 80 years later, the huts are still standing but in need of urgent repair.  The funding received will go towards vital repairs to restore and preserve the huts, protecting them against further weather damage and deterioration.
Housing a multitude of information and original artefacts from WWII, the museum aims to encourage learning and showcase modern history using immersive techniques, engaging displays and exhibitions.
Howard Johnson and Paula Peace, co-owners and directors of Eden Camp are thrilled with the positive news,
"We are extremely appreciative of the support shown by North Yorkshire Council and York & North Yorkshire Growth Hub for the project. We are passionate about keeping our local history alive and are proud to continue sharing our extensive archives with the local community, visitors, volunteers and school children through the help of UK Government funding."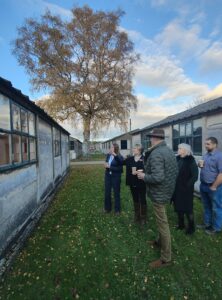 Thousands of visitors, including school children, enjoy the museum, learning about the local and national history of the camp, and a wider understanding of the military and social contexts of WWII. The Museum prides itself in being a key supporter of the local community, and a contributor to the thriving visitor economy in North Yorkshire. By preserving history through the awarded grant, Eden Camp can continue to engage with the community and boost educational outreach.
A special thanks to Carey Bilton, Growth Manager at North Yorkshire Council, and Cllr Lindsay Burr MBE, for their visit to look around the museum and see where the UK SPF grant award will be put to good use!
The UK Shared Prosperity Fund is a central pillar of the UK government's Levelling Up agenda and provides £2.6 billion of funding for local investment by March 2025. The Fund aims to improve pride in place and increase life chances across the UK investing in communities and place, supporting local business, and people and skills. For more information, visit https://www.gov.uk/government/publications/uk-shared-prosperity-fund-prospectus.